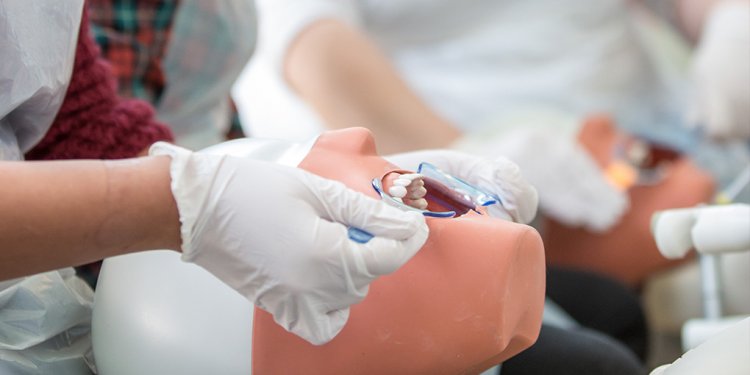 Oral Health care for Children
Brushing & Flossing
Begin using toothpaste to brush your child's teeth when he (or she) is 2 years old. Be careful to use only a small dab of toothpaste (about the size of a grain of rice). Young children tend to swallow toothpaste when brushing, rather than spitting it out. Introduce fluoride toothpaste when your child is old enough not to swallow it. As soon as two teeth touch each other, floss between them once a day. You can use regular floss or special plastic floss holders.
At some point, your child will want to brush his or her own teeth. It's fine to give him a turn. But afterwards, you should always brush your child's teeth a second time. Most children won't be able to brush their teeth well on their own until they are about 8 years old.
Nutrition
While what your child eats is important for healthy teeth, how often a child eats is just as important. Frequent snacking can increase a child's risk for tooth decay.
Cavities can develop when sugar-containing foods are allowed to stay in the mouth for a long time. Bacteria that live on the teeth feast on these bits of food. They create acid, which eats away at tooth enamel. Between meals or snacks, saliva washes away the acid. If your child is always eating, there may not be time for this acid to get washed away.
When most people think of sugar, they think of the white sugar that is found in candy and baked goods. But all foods that contain carbohydrates will ultimately break down into sugars.
Dental Visit
New parents often ask, "When should my child first see a dentist?" Your child should see a dentist by his or her first birthday.
The idea of such early dental visits is still surprising to many new parents. However, national studies have shown that preschool-aged children are getting more cavities.
Losing Baby Teeth
On average children begin to lose their baby teeth when they are about 6 or 7 years old. It doesn't mean something is wrong with you child if they lose their teeth before or after this time. Most children lose their teeth in the same order they came in. For example, they lose their bottom center teeth first.
Early Orthodontics
Children today tend to get braces at a much earlier age than in years past. Some patients with special problems begin orthodontic treatment as early as 6 years old. Permanent teeth begin to come in around this time, and it is when orthodontic problems become apparent. Because the jaw is still growing it's an ideal time to evaluate a child.
Share this article
Related Posts