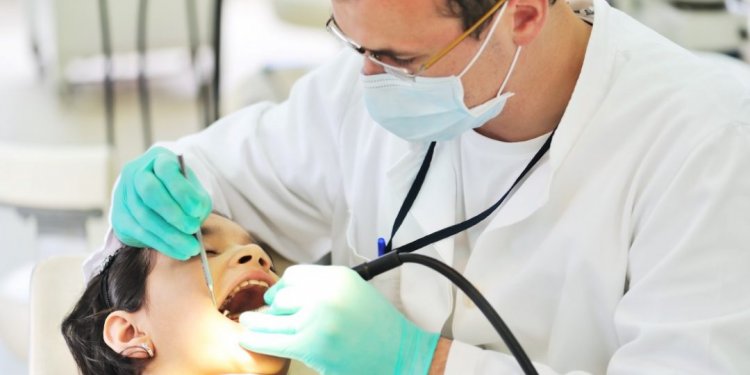 Oral Health care
A healthy smile is a bonus at any age. Too often older people, neglect the health of their teeth. It is never too late to learn the basics of oral health care.
Tooth Decay (Cavities)
Tooth decay is not just a children's disease; it can happen as long as natural teeth are in the mouth. Tooth decay is caused by bacteria that normally live in the mouth. The bacteria cling to teeth and form a sticky, colorless film called dental plaque. The bacteria in plaque live on sugars and produce decay causing acids that dissolve minerals on tooth surfaces. Tooth decay can also develop on the exposed roots of the teeth if you have gum disease or receding gums (where gums pull away from the teeth, exposing the roots).
Just as with children, fluoride is important for adult teeth. Research has shown that adding fluoride to the water supply is the best and least costly way to prevent tooth decay. In addition, using fluoride tooth pastes and mouth rinses can add protection. Daily fluoride rinses can be bought at most drug stores without a prescription. If you have a problem with cavities, your dentist or dental hygienist may give you a fluoride treatment during the office visit. The dentist may prescribe a fluoride gel or a mouth rinse for you to use at home.
Gum (Periodontal) Disease
A common cause of tooth loss after age 35 is gum (periodontal) disease. These are infections of the gum and bone that hold the teeth in place. Gum diseases are also caused by dental plaque. The bacteria in plaque causes the gums to become inflamed and bleed easily. If left untreated, the disease gets worse as pockets of infection form between the teeth and gums. This causes receding gums and loss of supporting bone. You may lose enough bone to cause your teeth to become loose and fall out. You can prevent gum disease by removing plaque. Thoroughly brush and floss your teeth each day. Carefully check your mouth for early signs of disease such as red, swollen, or bleeding gums. See your dentist regularly every 6-12 months - or at once if these signs are present.
Share this article
Related Posts