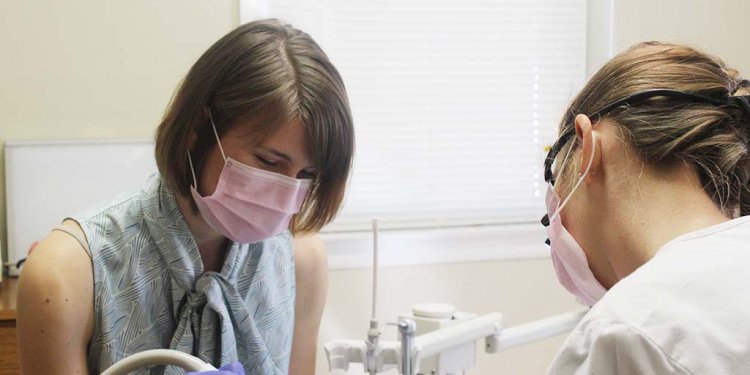 Public Health in Dentistry
*Program now participating in PASS and we are going paperless this year! Please see details in regards to applying below*
NEW: The UCSF School of Dentistry and UC Berkeley's School of Public Health announce the launch of a joint program, starting July 2017, for dentists interested in dental public health. Application deadline for the UC Berkeley component is Dec. 1, 2016. Read more on this new program.
PROGRAM OVERVIEW
In 1951, the American Dental Association recognized dental public health as a specialty of dentistry. The residency is accredited and prepares residents for specialty examination by the American Board of Dental Public Health and careers in public health. Dentists with Master in Public Health (MPH) or equivalent degree can enroll in a 12-month full-time or equivalent, not exceeding 24 months, supervised program of field experiences, academic courses, and opportunities for practical experience. Completion of this program does not qualify trainees to become licensed to practice in California.
A specialist in dental public health will have an understanding of and be able to apply concepts involved in the planning, implementation, operation, and evaluation of dental public health programs, and will also have an understanding of the processes through which health policies are developed and regulated. To manage oral health programs and assume a leadership role in public health, a specialist must possess technical skills in a number of areas, including planning, marketing, communications, human resources, management, financial management, advocacy building, management of information, and evaluation, quality assurance, and risk management.
The activities of the residency are uniquely adapted to the prior experience and interest of the resident. The educational plan is reviewed on a regular basis and modified as needed. Residents are expected to complete a major and minor research project prior to completing the program. A non-traditional residency track can be tailored for individual needs. Limited support may be available for US Citizens and permanent residents. In this program, residents are considered postgraduate professional students.
The program is under the supervision of Dr. Howard Pollick. Faculty Members: Dr. Steven J. Silverstein, Dr. George Taylor, Dr. Lisa Chung, Dr. Irene Hilton, and Dr. Reginald Louie, all board certified in dental public health.
For additional information on the goals and content of the program, please contact:
Dr. Howard Pollick, BDS, MPH
Health Sciences Clinical Professor
Director, Dental Public Health Residency Program
Dept. of Preventive & Restorative Dental Sciences
School of Dentistry, UCSF
707 Parnassus Avenue, Box 0758
San Francisco, CA 94143
415-476-9872
howard.pollick@ucsf.edu
For questions regarding admissions and application procedure, please contact:
Daliah Williams
Admissions Coordinator
Office of Admissions
513 Parnassus Avenue, S-630
San Francisco, CA
(415) 476-2737, Ext#3 (voice)
(415) 476-4226 (fax)
E-mail: daliah.williams@ucsf.edu
ADMISSIONS REQUIREMENTS
DDS or equivalent degree
Master degree in Public Health or equivalent
National Board Exam, Part I
Test for English as a Foreign Language (TOEFL): For those applicants whose native language is not English, or received dental training outside the United States. The institution code is 4840.
APPLICATION PROCEDURES
Applicants must first submit an application to Postdoctoral Application Support Service (PASS) by the program's February 10th deadline. They must include with their PASS application: Personal essay, curriculum vitae (CV), dental school transcript, undergraduate transcripts, 4 PASS evaluation forms (PEFs) and 1 Dean's institution evaluation form, and enter all required scores.
Applicants must submit the following items directly to UCSF
University of California, San Francisco
Dental Admissions Office
513 Parnassus Avenue, S-630
San Francisco, CA
2. If you have foreign coursework please also submit the following directly (even if you submitted a copy via the PASS application):
Official transcript(s) sent directly from the issuing institution from all colleges and universities attended (including transcripts from foreign universities and Canadian institutions where English was not the official language of instruction)
Official course-by-course evaluation from Educational Credential Evaluators, Inc. or World Education Services for ALL foreign transcripts received outside of the US including Canadian schools where English was not the official language of instruction
with non-refundable $60 fee ($80 for international students, including Canadian citizens) to:
UCSF Office of the Registrar
P.O. Box 742908
Los Angeles, CA
Do not send any transcripts, letters of recommendation, other documents or correspondence to this address.
PLEASE NOTE: Only those applicants who meet all admissions qualifications and submit all required documentation within the deadline, including the UCSF application with fee, will be considered for a position.
Share this article
Related Posts