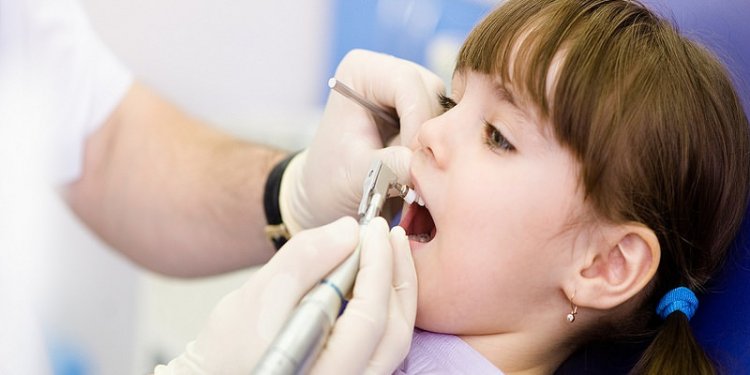 Pediatric Dental Health Associates
737 N Michigan Ave
Ste 1330
Chicago, IL 60611
(312) 266-8198
This was my first experience with a pediatric dentist. It was my son's first visit ever to a dentist. He is 23 months and very much a busy body. They were very patient with him since he likes to touch and get into everything. He is also very stubborn and I was worried he wouldn't cooperate with the cleaning, but they were really able to get him focused and excited about it by talking to him and singing songs. He ended up having so much fun there, the waiting room was like a big play room. It's a little pricey and you have to pay up front because they are out of network for all insurance companies, however they are very up front about their billing process when you make the appointment. You can submit the claim yourself and get reimbursed.
This pediatric dentist was recommended by a family dentist but we had a traumatizing experience for our 3 year old at his first dental experience. Like another reviewer (Valarie F.) things started off patient and gentle but when the dentist arrived (Dr. Oppenheim), our son was laid back and held down with his mouth held open while the dentist did a quick cleaning. He was terrified - more frightened than I've ever seen him which was hard on mom too and we've spent the last year working on his dental anxiety. Fortunately, his teeth are in good shape but we've since had a much better experience with a family practice where they take their time, and STOP at the the point of the child becoming really uncomfortable. I've willingly paid out of pocket for an extra cleaning just to build up comfort and reassurance. I don't expect the dentist to be pleasant or fun but pushing young children far beyond their comfort/ safe zone does more harm than good. I would never recommend this office.
Great place for kids. The entire staff is sensitive to my anxious kids and they work hard to make them feel comfortable. Singing songs, shoeing them the tools, letting them feel the tools so they know how they will feel, etc. They also play a movie while my kids get their dental work taken care of. It's a totally fun environment for kids. I highly recommend it.
The dental service is fine, they do a good job. Everyone is nice. BUT they said my 6 yr old son had 8 cavities and would need to come back 3-4 times and have be put under. I then took him to the dentist that my wife and I have been going to for 10+ years, and they said he only has 3 cavities and they will use local anesthetic. My dentist took new x-rays (for free) and the quality of his x-ray was much more clear and visible to see where cavities really are.
This place is the definition of showing your child not to be afraid of the dentist. The friendly and welcoming staff starts the moment you walk into the practice. The receptionist welcome's you and your child with a big smile and most importantly interact with them as well as the parent. They make the visit great before even seeing the dentist. Dr. Montero was awesome and had the greatest patience with our son along with attention, but not to mention the amazing work she performed. Our son looks forward to visiting again and all thanks to the amazing work and attention they perform. Great Job Guys!!
Awesome dental service, but horrendous billing process. They require you to pay in full, then seek reimbursement from your insurance. They are not helpful in helping you with the process. Jackie is not the most friendly person and is defensive.
My grandson Marcus has been seeing Dr Mary Hayes. Dr Valentino recommended her in 2010. The staff is just great. We are like a family Just love being there. Ms C
Such a great experience overall.. Dr Montero and her team are knowledgeable, fun and good at what they do. Dr. Montero is really patient with my kids and takes her time on telling them what to expect. She has her own special way with kids and really wins them over. Also my kids love going there because of the Tv's on the ceiling and the tablets on the wall. They really know how to give kids a great experience!
Thanks to Dr Hayes and tracey for making my toddler's dental cleaning fun for him! Love that they took the time to make him feel comfortable and at home that he didn't cry when it was time to clean his teeth, dr hayes even sang the wheels on the bus while cleaning his teeth so it definitely took away any anxiety he was feeling.
We were referred here by our regular dentist since our 5 year old got cavities for the first time. He needed extensive work done and had to go under anesthesia (yikes!) but the staff and dentists were very welcoming and answered all our questions (via multiple visits). My child got a total of ten teeth done including 8 stainless steel crowns but it was all done in one long visit. The office is decorated with child-friendly decor and the exam room is one big giant room with TVs on the ceiling for children to look at. They do not accept insurance directly and you have to pay in full, but they will help bill your insurance so you get reimbursed. My child will continue to come here now for regular dental visits.
Share this article
Related Posts