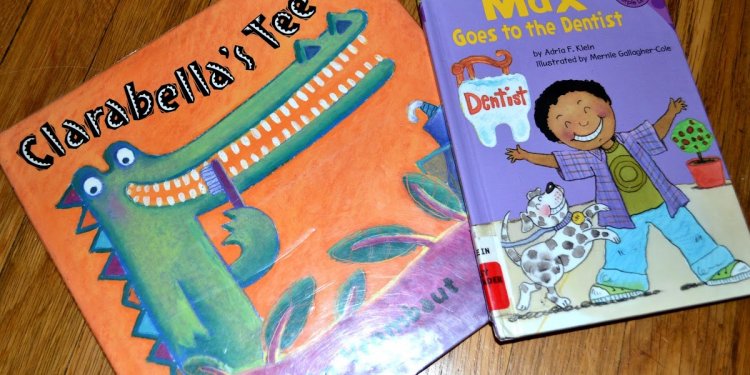 Dental Health Crafts for Preschoolers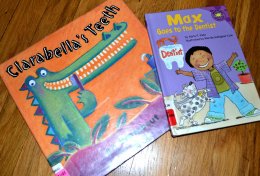 I'm pretty sure that Dental health month is in February, but we are just getting to it as part of a larger community helpers unit. Today's theme was technically dentist. There are lots of pictures from today. It feels like we did a ton. (new addition at the bottom- 5/2013)
Our craft was a gluing activity. The kids glued paper squares for teeth onto a printed mouth sheet. I don't get to choose the crafts, we all do the same thing. I do miss planning the crafts but I don't miss preparing all the pieces.
I didn't prepare this, so I'm not sure where he image of the mouth came from, but you could probably google image something and find a similar mouth.
We had a guest speaker today. It was actually the first thing we did for the day. My dentist came in to speak. He's very good with the kids and was happy to come in. He's younger than I am, but it's cool.
We did a sorting activity. I found all these pictures in just a small stack of magazines I borrowed from the paper recycling center. The little sad tooth says, "Sad tooth, sad tooth, full of tooth decay. Sweets and soda pop made me this way." The happy tooth says, "Happy tooth, happy tooth shiny and bright, brushing keeps me healthy and white."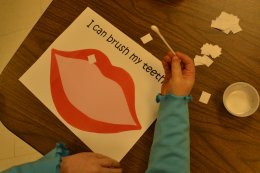 Bee gave it a test run at home. I laminated all the cutouts and they worked pretty well.
We talked about cavities. This apple showed how a little hole in your teeth can get pretty yucky inside. I only left this out 1 night, I probably should have cut it out two or more days before so it would be super gross.
Here was our snack, which we recreated for a snack at home. It's two apple slices with a layer of peanut butter in between. Mini marshmallows make the teeth.
I boiled an egg in tea and stained it brown. I showed the kids a white egg and the brown egg. We took turns brushing the dirty egg (like a dirty tooth) with real toothpaste. During each friends turn, we sang: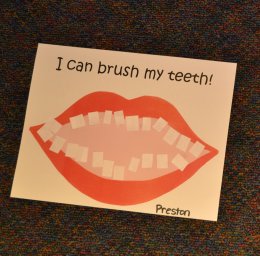 Brush, brush, brush your teeth
at least 2 times a day
cleaning, cleaning, cleaning, cleaning,
fighting tooth decay.
This picture is us trying it at home in advance. It really does come clean. mostly anyway. When we did it in class, I put the egg in a small bowl and place it on a tray. I also had a damp rag on the tray so the kids could wipe off their fingers.
We also talked about flossing. I saw this activity somewhere years ago when I taught 2nd grade. The play dough represents food and gunk that gets in between your teeth. The yarn is the floss. You use the yarn just like floss and easily get out the food. The kids asked for this to be out after snack time and they took turns flossing and resetting.
I'm sure I saw this counting activity somewhere online or I adapted it from another idea. I made up a paper mouth with marks for the teeth. We rolled the dice and added that many teeth. First I just made up one set, then I decided to make one for everybody.
For the circle marks, I stamped a marker lid in some black ink. The teeth are mini marshmallows. These are the same marshmallows from a snow project so we had a good talk about not eating them.
We have another guest next week for firefighter week. Should be another fun one.
addition 5/2013
I am linking up to some of these fine kiddo related parties:
Wednesday's A story + art = A Great stART @ A Mommy's adventures, Wednesday's Kids Get Crafty @ Red Teg Art's Blog, Tuesday's Show and Tell blog hop ad ABC and 123,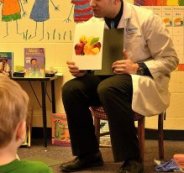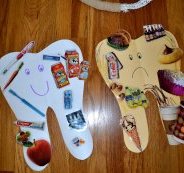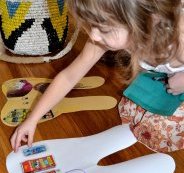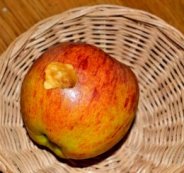 Share this article
Related Posts